Transfer to/from airport
Pool towel and bathrobes
Continental breakfast (sweet and salty) poolside
Room cleaning every day
Hairdryer and Frigobar
Conditioned air
Wi-fi in communal areas
Barbecue and kitchen available in the common area inside the Pantelleria garden
Shared swimming pool with saline water
Solarium overlooking the sea with four-poster beds
Shared outdoor jacuzzi with sea view
Aphrodite Garden, wellness area with biosauna with salt, experience shower and indoor/outdoor relaxation area
Piece of typical dammuso of Pantelleria with private patio overlooking the sea
The good reasons for choosing the Grecale dammuso.
The Grecale, which blows from the North-East, is the wind that blows from Greece and which gives its name to this beautiful dammuso with the view to the sea and the Mediterranean scrub. The Grecale dammuso has a large patio equipped with sun loungers and a small table where you can spend pleasant refreshing breaks.
The double bedroom has a round bed placed under a blue and gold dome: the large dimensions make it comfortable and welcoming. All our guests fall in love with it!
In the bathroom of the Grecale dammuso there is space for everything that is essential for your well-being.
The froor plan of the dammuso that awaits you.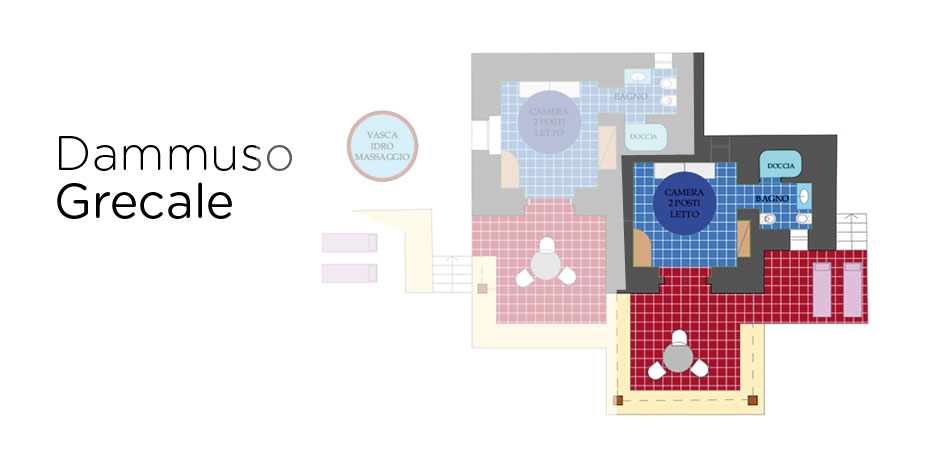 You're not convinced yet?
This is the perfect dammuso if you are looking for privacy and tranquility. It is no coincidence that it does not have a TV … because the spectacle guaranteed by the infinite horizon of the sea, by the evocative African sunsets and by the scents of the Mediterranean scrub is worth much more.
Isolated with sea view, you will rediscover the pleasure of contact with nature with all the comforts of a resort.
To have fun and stay in company you will have all the opportunities you need in the nearby barbecue area and shared kitchen in the Pantelleria garden.