Amenities
Continental brekfast (sweet and salty) poolside
Transfer to/from airport
Room cleaning every day
Pool towel and bathrobes
Hairdryer
Frigobar
Conditioned air
Wi-fi in communal areas
Salt water pool
Jacuzzi overview
Bush garden equipped with kitchen and barbecue
Aphrodite Garden, wellness area with biosauna with salt, experience shower and indoor/outdoor relaxation area
Typical ancient dammuso of Pantelleria with two beds in a large bedroom and living area with kitchenette.
The good reasons for choosing the Scirocco dammuso.
The Scirocco is a hot wind coming from the South-East, it is a climatic symbol of Sicily that is characterized by never blowing only a single day but always three days in a row. Lo Scirocco is a spacious and welcomingdammuso characterized by the play of colors in the shades of blue between the precious Sicilian majolica floor and the typical domed ceiling.
Among our dammusi, the Scirocco has an equipped kitchen for those who want to challenge themselves with the many local delicacies.
The luminous bedroom, made romantic by the typical dome roof, has shades of blue and gold to pamper your nights.
Characterized by well-liveable spaces and tasteful furniture, the dammuso overlooks an exclusive balcony with sea view, set up with a table to enjoy pleasant moments of idleness, gazing at the infinite blue of the sea.
The bathroom of the Scirocco dammuso will leave you speechless: a series of niches and domes embellished with mosaics and warm colors, suspended sanitary ware, two design sinks resting on a marble slab. Your time spent here will be a pure vacation.
The floor plan of the dammuso that awaits you.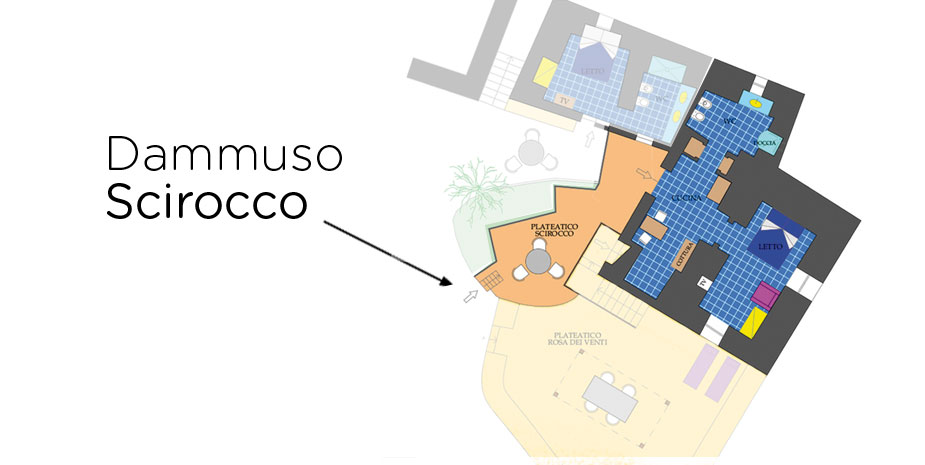 You're not convinced yet?
Inside the Al-Qubba Wellness & Resort, this typical dammuso has the ideal location for those who want to enjoy peaceful and private holiday in Pantelleria.
The Libeccio dammuso is located near the wonderful Garden of Aphrodite and a salt bio sauna. Let yourself be kissed by the sun and lulled by the sea on the exclusive balcony.
A dammuso where you will feel at home with the fascination of being surrounded by the sea.