Transfer to/from airport
Continental brekfast (sweet and salty) poolside
Room cleaning every day
Pool towel and bathrobes
Hairdryer
Frigobar
Conditioned air
Wi-fi in communal areas
TV in the room
Barbecue and kitchen available in the common area inside the Pantelleria garden
Shared swimming pool with saline water
Solarium overlooking the sea with four-poster beds
Shared outdoor jacuzzi with sea view
Aphrodite Garden, wellness area with biosauna with salt, experience shower and indoor/outdoor relaxation area
Piece of typical dammuso of Pantelleria with private patio overlooking the sea
The good reasons for choosing the Ostro dammuso.
Ostro, the humid midday wind, is also known by the name of the Greek myth Noto and is one of the four winds unleashed by Poseidon against Odysseus on his tortuous return home. The choice to give its name to the Ostro dammuso is due to its ability to overwhelm the emotions of those who stay there: the sunsets that are experienced from the patio overlooking the sea or from the room pervaded the atmosphere of peace that you breathe.
The double bedroom is large and bright, with a round bed that will satisfy even the most demanding, the domed vaults decorated in the colours of red and gold and an intriguing mirror-chandelier to be discovered.
In the bathroom of the Ostro dammuso you will find yourself immersed in the aesthetic refinement of mosaics and design furnishings.
The froor plan of the dammuso that awaits you.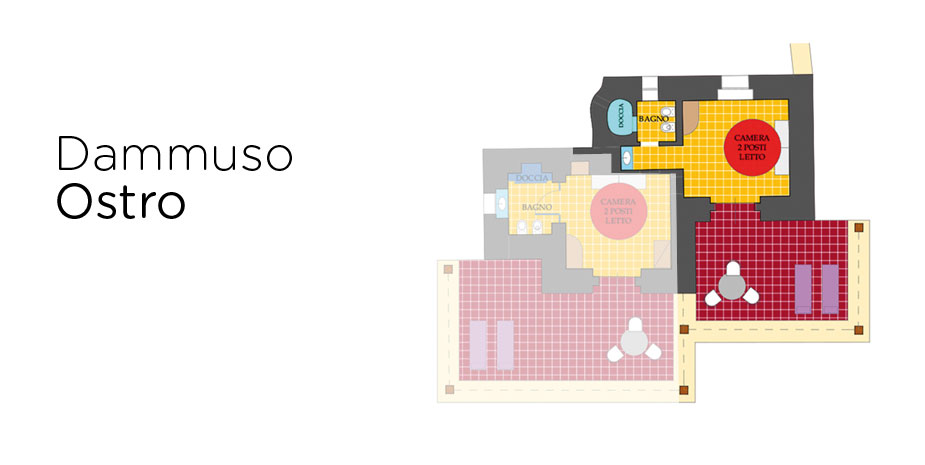 You're not convinced yet?
The Dammusi Al-Qubba are perfectly integrated with the surrounding natural environment, to the point that you will be able to receive the visit of some wild bunny not at all frightened by your presence.
Only here can you wake up with the wake up call of the wild bunnies.
The Ostro dammuso will reconciles you with yourself and with those around you, recharging you with energy and relaxing at the same time.