Continental breakfast (sweet and salty) poolside
Transfer to/from airport
Pool towel and bathrobes
Room cleaning every day
Hairdryer - frigobar
Conditioned air
Wi-fi in communal areas
TV in the room
Barbecue and kitchen available in the common area inside the Pantelleria garden
Shared swimming pool with saline water
Solarium overlooking the sea with four-poster beds
Shared outdoor jacuzzi with sea view
Aphrodite Garden, wellness area with biosauna with salt, experience shower and indoor/outdoor relaxation area
Piece of typical dammuso of Pantelleria with private patio overlooking the sea
The good reasons for choosing the Levante dammuso.
The Levante (east) takes its name from the cardinal point from which it originates and is a humid and cool wind, which often stirs the sea. This is why we gave this name to the Levante dammuso which enjoys a cool patio overlooking the sea, equipped with sun loungers and a table, from which you can let your gaze travel free and lay it on naturalistic beauties what you will always remember.
The double bedroom is large, with a round bed and domed vaults decorated in red and gold colors.
The particular bathroom of the Levante dammuso is bright, with a window overlooking the sea and a large mosaic shower.
The froor plan of the dammuso that awaits you.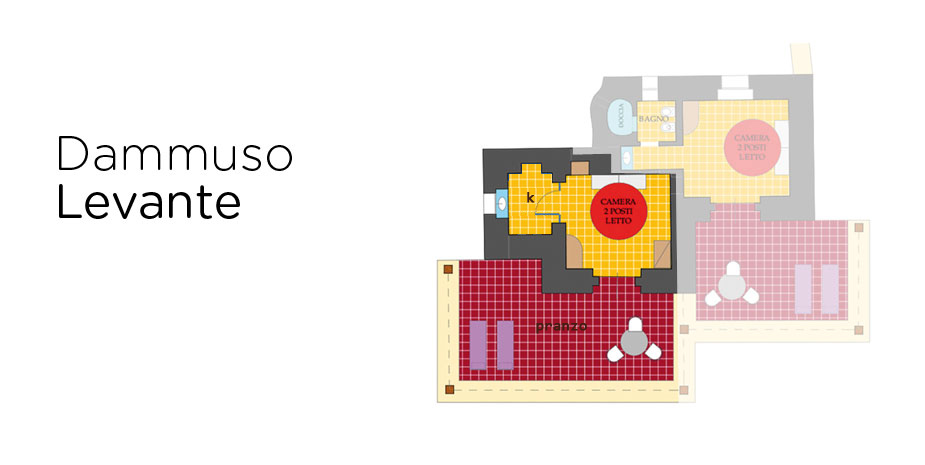 You're not convinced yet?
A particularly romantic dammuso, ideal for spending unforgettable days and evenings while admiring wonderful African sunsets.
Pantelleria knows how to make your romantic holiday enchanting and this is the ideal dammuso for your dream for two.
You will feel like you have your own corner of paradise overlooking the sea with a view of the white lime of the dammusi.